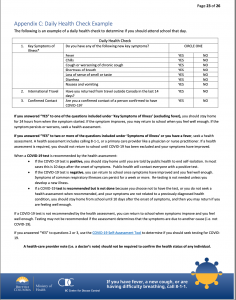 Found on page 23 of the BCCDC guidelines is this Daily Health Check to help parents, students and staff with assessing if they should go to school or not.
Stage 2 – School Restart Plan Now Online – August 25, 2020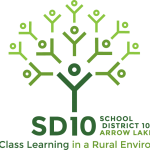 The Board of Education, school district, and our staff are excited to welcome back all Kindergarten to Grade 12 students to the start of a new school year. Though school will look different than in previous years with the health and safety of our students and staff a top priority, the world class teaching and learning and welcoming learning environments that our learners and parents expect in our schools will continue to be front and centre.
                                         Welcome back to school, everyone!
---
Back to School Plan – September 8 for Staff and September 10 for Students
I know that everyone is wondering what the first week back to school will look like. We want to ensure that students are back in school as soon as possible with all health and safety protocols in place. As a result, all students will be back in school with regular bus runs resuming Thursday, September 10th while our staff will be back in schools on Tuesday, September 8th and Wednesday, September 9th, preparing for our students' learning and safe return in compliance with all the new BC Centre for Disease Control and Public Health guidelines.
Here is the plan for the first week back to school:
Tuesday, September 8th – Staff only in schools with focus on:
Review of BCCDC/PHO health and safety COVID-19 protocols
All staff OH and S committee meetings
review of plans for hand hygiene, physical distancing
implementation and planning for learning cohorts/groups
Bus Drivers, maintenance and custodial staff to review new BCCDC/PHO guidelines and cleaning protocols
Wednesday, September 9th – Staff only in schools with focus on:
planning and review of back to school COVID-19 orientation for students
mental well-being strategies, activities and support for all students and staff
support planning for students with diverse learning needs
support planning for indigenous learners
Thursday, September 10th and 11th – All Grade 1-12 students return to school full time; K students gradual entry or full time as determined by school
All Grade 1-12 students return to school full time for orientation to new safety protocols, practice in hand-washing, using masks, physical distancing
Kindergarten students return to school full time or gradual entry for first two weeks according to school plans (communicated in advance to parents)
Classes will resume with rich and engaging learning experiences, assessments of where students are in their learning to plan next steps in teaching, and a focus on social and mental well-being as well as academic learning
All districts are required to submit their September Restart Plans to the Ministry by August 21st and we have been hard at work on this planning. On Monday, August 17th at 5 pm, our partner groups including both unions, parents, indigenous elders, and PVPs will meet with district staff and the Board to review the draft plan and make any needed changes. Our Stage 2 Restart Plan will be posted on the school and district websites no later than August 26th for our parents, students, and public.
We are grateful as always for the fantastic collaborative relationships across our district and our collective commitment to creating and planning together for the best interests of students and staff. Please continue to check the school district website under COVID-19 for updates on Ministry documents, BC Centre for Disease Control/Public Health Office information, as well as the SD 10 Restart Plan.
Our dedicated and compassionate team of teachers, support staff and school and district leaders look forward to safely welcoming back all our students on September 10th and serving our learners as the 2020/21 year unfolds.
Resuming In-Class Learning in SD 10
During the week of June 8-12, 57% of our students were in attendance at their schools. It's great to have students back for learning with their teachers and classmates.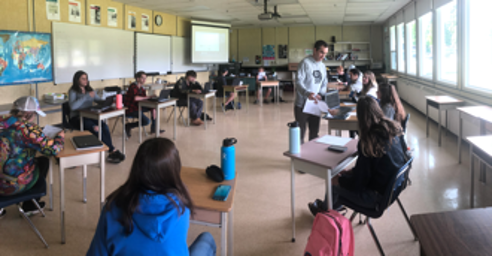 Our district Restart to In-class Learning Plan is based on thoughtful consideration of health and safety for students and for staff and ensures that continuity of quality learning, full time support for the children of Essential Service Workers and vulnerable students requiring additional support are in place throughout the district.
The plan builds on the school district's success in supporting 30-40% of students in schools over the past nine weeks since spring break while continuing to provide quality learning experiences for all learners remotely or in person for the month of June 2020.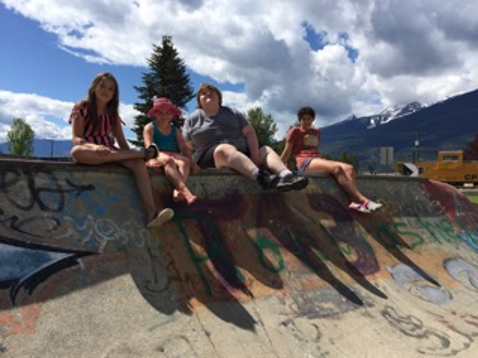 ---
Resuming In person learning in SD 10 – Letter from Superintendent
This May 29th, 2020 letter for all Parents and Guardians outlines the measures taken by the school district to ensure student and staff safety. Superintendent Taylor welcomes all students back to in person learning or to extending remote learning for the month of June.
Parents wishing to have their children attend school in person are invited to contact their school principal or vice principal.
SD10 Safety and Prevention Measures
The District is committed to providing a safe and healthy workplace and learning environment for all staff and students. The scope of this Pandemic Response Plan is to assist us in preparing and responding to the COVID-19 pandemic. A combination of response measures and contingency planning is essential for an effective response to a pandemic. This plan clarifies roles and responsibilities and outlines the steps School District 10 takes in ensuring coordinated pandemic response measures and where possible, continuity of learning and work.
The District is committed to providing a safe and healthy workplace and learning environment for all staff and students.
The purpose of this document is to:
Ensure all school district staff reduce the risk of infection through the transmission of COVID-19.
Outline control measures to minimize or eliminate the potential for transmission of COVID-19.
Follow the direction of the Provincial Health Officer and BC Health Minister (Public Health) on the measures for infection control based on current COVID-19 related information available.
Ensure that all school district staff take reasonable care and cooperate with the district to ensure the health and safety of themselves and other staff.
The Provincial Health Officer maintains that facilities that provide in-school care services can safely care for children if they are following the prescribed Public Health protocols. The information in this document is taken from the Public Health Agency of Canada, BC Centre for Disease Control, Interior Health Authority, and the Ministry of Education. The authority to implement the safety plan at each site rests with the school Principal/Vice Principal.
COVID-19 Information and Resources
COVID-19 Information – Worker Safety Orientation – August 31, 2020
Provincial COVID-19 Health and Safety Guidelines for K-12 Setting
COVID-19 Resources for Parents and Guardians
Frequently Asked Questions (FAQs) on Continuity of Learning: Updated on May 26 to include additional health and safety questions/answers.
Keep Learning: Provides learning resources and supports for K-12 students. This site is being updated as new resources are available. The French version of the website was recently launched.
BC's Response to COVID-19 website: Provides up-to-date non-clinical information on COVID-19. The COVID-19 app is available on Apple's app store and the Google Play store. British Columbians can also use the new provincial phone service by calling 1-888-COVID19, available seven days a week from 7:30 am to 8:00 pm, with information in over 110 languages. Specific public health questions re: COVID-19 should be directed to your local health authority.
COVID-19 Mental Well Being and Mental Health Resources for Families, Students and Staff
Virtual Mental Health Resources During COVID-19
Canadian Mental Health Association – Services During COVID-19
Healing Families, Helping Systems: A Trauma-Informed Practice Guide for Working with Children, You and Families
COVID-19 Safety Posters
WorkSafe help-prevent-spread-covid-19-entry-check-visitors-pdf-en (1)
WorkSafe help-prevent-spread-covid-19-how-to-use-mask-pdf-en (1)
WorkSafe help-prevent-spread-covid-19-handwashing-pdf-en
WorkSafe help-prevent-spread-covid-19-cover-coughs-sneezes-pdf-en