Data on Early Learning
We use a range of tools to determine the needs for our early learners, to inform our teaching and learning practices, and overall, to help us better support our children and families.
1. Early Development Instrument (EDI)
The EDI is an instrument used province-wide once children enter Kindergarten to measure patterns and trends in children's development health. The UBC HELP (Human Early Learning) Program has been collecting and analysing EDI data since 2001. Over the past 15 years, data has been collected for over 247,724 kindergarten children in BC. As a result, the EDI is viewed as an important foundation for a population health monitoring system that supports increased understanding of children's early learning developmental outcomes over time and across geographies.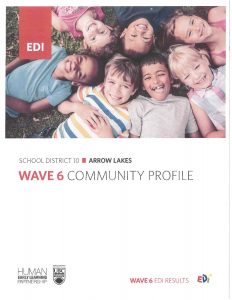 The Early Development Indicator measures children's vulnerability before entering school using a range of factors: Physical Health and Well-being, Social Competence, Emotional Maturity, Language and Cognitive Development, and Communication Skills and General Knowledge. Vulnerability on two or more scales is seen to indicate vulnerability in early learners.
SD 10's EDI results are now collected every year as the cohort size (total number of children) is small which means that from year to year, results may vary.
In Wave 6 completed in 2017, Vulnerability on two or more scales has decreased from previous years to only 17%. This means that in the 2016-17 Kindergarten cohort across the district, 17% of children were assessed as vulnerable on two or more scales. Full details of the report are available on the UBC-HELP website:  SD10 Arrow Lakes – Wave 6 Community Profile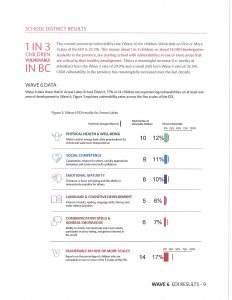 2. Ready, Set, Learn Data
Ready, Set Learn programs are held at each elementary school or community in the district to support parents and young children before they enter Kindergarten. The Ministry of Education has parent booklet that helps explain the RSL program, and Ready, Set Learn events are held in our schools in the spring of each year.
We hold RSL programs at Lucerne School in New Denver, at Nakusp Elementary School in Nakusp, at our Arrow Lakes Distributed Learning School families in the New Denver area, as well as RSL sessions in Burton and in Edgewood. Our participation data from spring 2017 indicates that we continue to have strong engagement with children and their families through Ready, Set, Learn sessions.
| | | |
| --- | --- | --- |
| School/Community | # children attending | # adults attending |
| Nakusp Elementary | 21 children | 19 adults |
| Lucerne Elementary | 8 children | 7 adults |
| Burton/Fauquier/Edgewood | 6 children | 10 adults |
| AL Distributed Learning | 1 child | 1 adult |
Ready, Set, Learn sessions are advertised in the schools, in school newsletters, Strong Start Centres and in the community and open to all families with children not yet in school with a particular emphasis on 3 and 4 year old children. We are thrilled to have the high levels of family engagement in these sessions which are usually facilitated by our Strong Start Coordinators who make strong connections with parents and families.
Strong Start Centre Data
Each month, our three Strong Start Coordinators take turns submitting a report on the learning experiences and attendance in their Strong Start Centre. These reports are included in the monthly Regular Board meeting minutes and provide narrative data on parent and child engagement in the Strong Start programs.
2017-18 Strong Start Reports – Southern Zone Strong Start Centre at Burton Elementary, Fauquier, and Edgewood Elementary
2017-18 Strong Start Reports – Nakusp Strong Start Centre at Nakusp Elementary
2017-18 Strong Start Reports – New Denver Strong Start Centre at Lucerne Elementary Secondary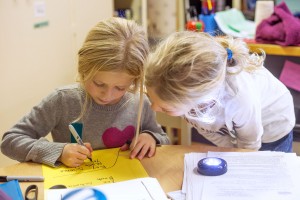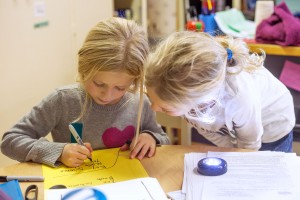 "Our daily schedule consists of free play, arts and craft, clean up, snack, gym, circle time, library time, music in the gym with the primary classes, play and good byes." – N. Bone, Strong Start Coordinator 
"Our visits to the K/1 class continue once per week for playtime.  Parents are appreciative of the connection with Ms. Lada and the Kindergarten environment."
"The Green Thumbs Garden Club starts up again next Thursday from 3:15 pm – 4:30 pm.  StrongStart partners with Julia Greenlaw to provide a gardening experience for families as well as Elementary aged children in the school garden."  C. Alexander, Strong Start Coordinator
Video Gallery – Early Learning Data
Narrative evidence of the strength of Early Learning at Lucerne Elementary School in New Denver can be seen in the film, Garden, Greenhouse and Sustainability hosted on our SD 10 website.
Strong Start Coordinator and pre-school teacher, Charlene (Bean) Alexander features in this film. She and the children speak and engage in the after school Green Thumbs Club, and show how the school garden and greenhouse are woven into innovative early learning experiences. Learning from the perspective of Lucerne primary students in a wide range of curricular areas is likewise demonstrated in this film.