Wellness Matters
Wellness matters in all aspect of our life and it is our aim to foster a culture that supports and promotes workplace wellness that benefits and extends to all other aspects of our day to day life. We believe that wellness in the workplace translates into positive contributions and engagement in the lives and education of our students and our greater community. This is so vital in the work that we do!
Well-being during COVID
Well-being is more important now than ever. The past year has been extraordinary – the widespread global conditions brought on by the COVID pandemic have required each of us to adapt and make significant adjustments in our daily lives. We've had to change the way we live our lives and each of us are experiencing the stress of this "new normal" in different ways.  However, it serves us all to seek-out, acquire and practice self-care tools so that we have the resilience to not only cope but to thrive.
To achieve this, establish normal routines that support your physical and mental wellbeing (from BC Mental Health and Substance Use Services) which can include:
Did you know your EFAP provides for Online Group Counselling?
Online Group Counselling – Supporting you during the COVID-19 Pandemic
To access support through EFAP please click the following link: WorkHealthLife.
---
More from Morneau:
Need some help with your health and wellness goals? Did you know that EFAP offers great online support programs in many areas of Work-Life-Health? For a complete list of supports available, long in to your MyServices page for School District 10 (Arrow Lakes).

---
Other Helpful Resources
The Well Teacher
The well teacher was written for teachers, but is an excellent resource that can benefit others who work in the school system.  If you are interested in learning more about this amazing resource please check with your School Administrator to access a site based copy.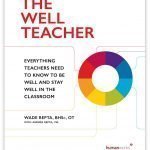 Wellness Directory 
For a comprehensive listing of health and wellness resources, including a local directory, please view the downloadable Wellness Directory below.  If you know of an important resource, or are aware of a new health and wellness initiative please feel free to share this information by contacting the school Human Resources designate.
---
Employer Benefits Information
For benefits information specific to your employee group please visit the following web pages:
Employee and family Assistance Program (EFAP)
Morneau Shepell Website  / Work-Health-Life
Your Employee and Family's Assistance Program is a confidential and voluntary support service that can help you solve work, health or life concerns. Your EFAP is completely confidential within the limits of the law. There is no cost to use your EFAP.
For more information please visit either of the websites above or check out the following information:
---