Welcome to School District 10's Early Learning page. With a focus on learners from StrongStart through Grade 3, the purpose of this site is to celebrate our children and the adults who work to support and nurture their learning.
Focus on Early Learning
A focus on Early Learning (0-8 years old) is key to our children's success. We invest in early learning before children enter school through Strong Start  and Ready, Set Learn programs, support early learners and their families once they enter school, and provide strong early learning programs throughout their primary school years. This approach is aligned with the Ministry of Education's Early Learning Framework.
In SD 10, we work closely with our pre-school education programs and with our Strong Start Centres, ensuring that young children have smooth and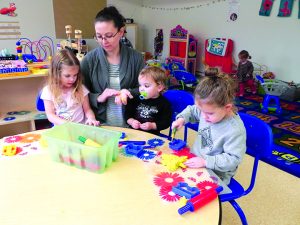 successful transitions from pre-K into their Kindergarten years. At the primary level, Grades K-3, our talented early learning educators, do all they can to support children's social-emotional, intellectual, physical and developmental needs.
In order to meet the diverse needs of our learners, we recognize the importance of partnering with families and caregivers to play our part in the provision of early learning experiences to our future learners during their 0-5 years.  We recognize and support early learning through play-based activities that support young children's capacity for learning, their natural curiosity and their desire to learn and embed many Reggio Emilia Approach principles in our early learning programs. Data on our Early Learning programs including Strong Start Reports, EDI, and Ready, Set, Learn participation can be found on our Early Learning Data page.
Early Learning Programs
Strong Start Centres
A drop-in program for children age 0-5 and their parent or caregiver, StrongStart programs serve the needs of children and families in Nakusp, New Denver, Burton, Fauquier and Edgewood.  Nakusp and New Denver StrongStart centres are open five days per week and operate with the regular school calendar. Burton, Fauquier, and Edgewood Strong Start Centres operate in each location one day per week for a total of three days per week .
Daily schedules include free play, arts and crafts, clean up, snack, gym, circle time, and good byes!
New Denver Strong Start Hours:
Monday and Friday :  9:00am – 12:00 pm
Tuesday and Thursday:  2:00pm – 5:00 pm
Wednesday,  11:00am – 2:00pm
Nakusp Strong Start Hours:
Monday, Wednesday and Friday :  8:45am – 11:45am
Tuesday and Thursday:  12:30pm – 3:30 pm
*For Nakusp StrongStart You can also follow news and upcoming events by requesting to join the Nakusp Early Years Group Facebook Page: Nakusp Early Years Facebook Group – Strong Start

Burton, Fauquier, Edgewood Strong Start Hours:
Edgewood School Website: Edgewood Elementary School – Strong Start, Early Learning
Burton: Tuesday 11:00am – 2:00pm
Edgewood: Wednesday 12:00pm – 3:00pm
Fauquier: Thursday 8:30am – 11:30am
---
Ready Set Learn
Ready, Set, Learn is an early learning program for children that is designed to support school readiness through different activities and experiences. Children learn ways to enhance their literacy and numeracy skills as well as their gross and small motor coordination. In order to participate, children need to be accompanied by an adult.
2020 Ready, Set, Learn Schedule for Nakusp Elementary School is below:
Session dates and times TBC.
For inquiries please contact Nancy Bone at 250-265-3638 ext. 3320
2020 Ready, Set, Learn Schedule for Lucerne Elementary School is below:
Session dates and times TBC.
Please pre-register by contacting Charlene by phone 250-358-7768, Julia by phone 250-358-2745, or Lila by phone 250-358-7766.
2020 Ready, Set, Learn Schedule for Southern Zone Schools is below:

Session dates and times TBC.
For inquiries please contact Jodi McLean.
---
Getting Ready for Kindergarten

Starting Kindergarten is an exciting milestone, and it can also create anxiety for children and their parents. For more information, and tips on transitioning to Kindergarten, please download a school brochure below.
Additional Early Learning Resources
Video Link – Helping your kindergartener with separation anxiety – video source: Anxiety BC
Brain Development in Children Stimulation Info